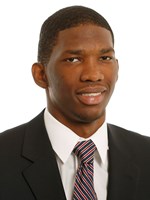 Joel Embiid, Freshman, Center, Kansas
Overview:
Look how far a player can come in just a quarter of a season. Nobody knew anything about Joel Embiid before the season began (he started playing basketball late), and now he is all NBA scouts want to talk about. The 7'0" center has teams drooling over the possibilities of stashing him in the lane and running offense and defense through him. His upside is off the charts.
Embiid has yet to put together a complete game in terms of stats this season, but he creates problems for other teams on the interior. Early in the year Georgetown did not have the easiest time figuring him out. He is second in the Big 12 in blocks. He rips down rebounds to the tune of 7.8 per game. He is not a huge scoring threat at this point, but three of his last five games he has scored in double figures. He is learning as he goes. Once he puts it all together, he could be the next Hakeem Olajuwon.
FINAL PROJECTION:
The native of Cameroon has a long way to go in his development. He could use a better understanding of fundamental strategy and how to make better decisions. Development of a jump shot would go a long way as well. For all he is lacking, though, Embiid is long and athletic. He alters shots in the lane. He is a big man. The NBA is constantly looking for the next great big man. He went from a freshman at Kansas to the likely number one overall draft pick in a matter of a few games. Not a bad ascent.
See all NBA Draft Profiles and Rankings