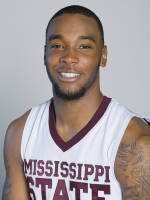 Arnett Moultrie, Senior, Power Forward, Mississippi State
Overview:
After sitting out the entire 2010-11 season due to transferring from UTEP to Mississippi State, Arnett Moultrie will join a talented Bulldogs team trying to compete in the SEC. As a sophomore for UTEP in 2009-10, Moultrie averaged 9.8 points and 6.7 rebounds per game in 28.9 minutes a night. The 6'11" power forward from Memphis, Tennessee will look to improve his draft status, which might have been slightly damaged with him missing a year due to the transfer. Moultrie is a long, athletic big man with the ability to play inside and out. He has good quickness and mobility for a player his size, making him very versatile at the four spot. He is a quality rebounder, especially on the offensive glass, allowing him to score around the basket with second chance opportunities.
Moultrie is a good shooter, however, he spends a little too much time on the perimeter for a power forward. He will need to work on becoming more of a force on the inside as he adds weight to his frame, along with improving his defensive presence.
Final Projection:
Right now it looks as if Moultrie is on the outside looking in when you forecast the 2012 NBA draft. He has the size and upside that NBA scouts are looking for, but there is also an uncertainty to him, which leaves him outside the top 60 picks in 2012. Luckily for Moultrie, he has a season to improve and try to get his name on the draft board, and ultimately live up to the potential that is there.
See all NBA Draft Profiles and Rankings