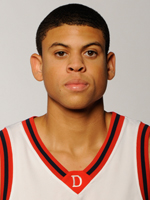 Ray McCallum, Junior, Point Guard, Detroit
Overview:
Ray McCallum spurned offers from schools like Arizona, UCLA, Florida and Oklahoma to play for his father at Detroit. His stellar prep career resulted in just about every accolade a player can receive. Needless to say, it was a great pick up for UDM and it was expected that the 6-1 point guard would immediately bolster the Titans offense and turn them into a very dangerous team in the Horizon League.
McCallum did his part during his freshman season, averaging 13.5 points, 4.9 assists, 4.7 rebounds and 1.6 steals. For a freshman he did a superb job of taking care of the ball, but his outside shooting was relatively inconsistent. Another year or two on the team should fix that issue.
Final Projection:
As good as McCallum's numbers were during the 2010-2011 season, the team did not perform as well as expected even with some talented players on the roster. McCallum did not step foot on campus and take over the leadership role. Nobody does, especially on a squad that has some veteran players who can fill that role. However, as the point guard, this needs to be McCallum's team and he needs to show the NBA that he can be a leader on the floor.
See all NBA Draft Profiles and Rankings