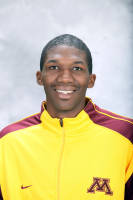 Trevor Mbakwe, Senior, Power Forward, Minnesota
Overview:
It was a long road for Trevor Mbakwe before he finally landed at Minnesota. He started his collegiate career with Marquette, where he averaged 1.5 points and 2.1 rebounds in 11 games, before suffering a season ending injury. The following season he left the Golden Eagles and ended up at Miami Dade College. Being the superb athlete that he is, Mbakwe dominated the competition at the junior college level. A year later, in 2009-2010, he was redshirted.
Finally, in 2010-2011, Mbakwe got to show off his stuff for a full season with the Golden Gophers and the 6-8, 240 pound did not disappoint his hometown school. Mbakwe led Minnesota with 13.9 points and 10.5 rebounds and even added 1.5 blocks per contest. His outside shot is pretty much non-existent, but Mbakwe plays bigger than 6-8 and continually getting a double-double in the Big Ten shows that he has the instincts and strength to be a force at the next level.
Final Projection:
One year of production is nice, but Mbakwe needs to do it again or he will be labeled as a one year wonder. His lack of size for a traditional power forward in the NBA is working against him. He could make up for that with the ability to stretch out the defense with his outside shooting, but he does not have that either. His production is impressive, but Mbakwe will not look the part when the NBA starts taking a closer look at him and that will likely slip him down into the second round of the draft. However, he is a steal in the second round.
See all NBA Draft Profiles and Rankings