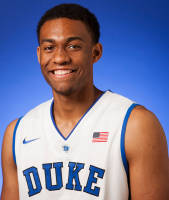 Jabari Parker, Freshman, Small Forward, Duke
Overview:
Parker, another member of the heralded freshman class, is arguably the best of the bunch. While that much is debatable, his production is not. Parker is already the go-to guy for Duke late in games. He has had some spectacular performances early in the season. He is one of the more athletic players in the country. His versatility is a huge asset for Duke. It will be at the next level as well.
To put his production into perspective, he leads Duke in points per game, rebounds per game, and blocks. He is second in the entire conference in scoring only to TJ Warren. The fact that he is an elite rebounder at the small forward position adds to his value. He has an effective mid-range jumper already. He is the sure fire winner for ACC rookie of the year honors.
Final Projection:
Parker is in the mix for the number one overall pick. Depending on how teams value athletic forwards, he might be swooped up early. He is in the mold of a Kevin Durant. He has the ability to improve his scoring at the next level. He is not really a three-point shooter, so that will be something scouts will consider. Coaches will not have a difficult time fitting him into the rotation. A player this athletic with fairly polished shooting skills is coveted at the pro level.
See all NBA Draft Profiles and Rankings