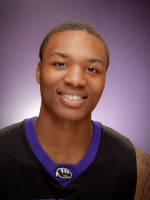 Damian Lillard, Senior, Point Guard, Weber State
Overview:
Damian Lillard was a star at Weber State once he stepped foot on the basketball court. As a freshman during the 2008-2009 campaign he unanimously won the Big Sky Freshman of the Year Award and was named to the all-conference first-team; an accolade he would continue to receive throughout his collegiate career. It was during that first season with the Wildcats that Lillard proved that he could score at any level and averaged 11.5 points per game.
By the following season Lillard was carrying Weber State and averaged 19.9 points, 3.6 assists and 4.0 rebounds. Lillard missed out on most of his junior campaign, but when he was playing he was doing plenty of scoring and continued to show that he could score from anywhere on the floor.
Final Projection:
Lillard can be a point guard when necessary, but at 6-2, he can be a shooting guard in the NBA. He has the shooting range to hit plenty of three-pointers at the next level and the pure scoring ability to be a threat from anywhere on the floor. His ability to handle the ball is nice, but it is not what he does best. Lillard would be a nice fit for an NBA team that is looking for a scoring spark off the bench who can also come in and be a second ball handler.
5/31/12 Update by Dan Levine
Lillard was a scoring machine for Weber State at the point guard position last season. A dual-threat scorer/passer is a valuable commodity. Many think he projects to the NBA better than Kendall Marshall. Either way, he is one of the best two point guards in this class. He should be a late lottery pick.
See all NBA Draft Profiles and Rankings