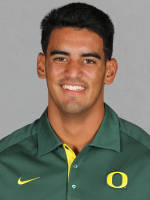 Marcus Mariota, Sophomore, Quarterback, Oregon


Overview:
Just a redshirt sophomore, Marcus Mariota has quickly climbed up draft boards, reminiscent of his staggering climb up quarterback charts and into the forefront of people's minds as a freshman. Lightly recruited out of high school, Mariota wasn't supposed to make fans forget about Darren Thomas so easily. In his first year as a college quarterback, the young man from Honolulu, HI threw for 2677 yards and 32 touchdowns while completing 68.5 percent of his passes and throwing just six interceptions. His rushing numbers were equally as impressive. If the opening act wasn't enough, Mariota proved it wasn't a fluke by following it up with a superior sophomore season. With just two years of starting experience, it wouldn't be a surprise to see Marcus Mariota return to school for another season and another shot at a National Championship. However, with the way his stock is angling and how valuable quarterbacks are in the NFL draft, it makes no financial sense to follow that route.
Final Projection:
At 6'4" and 211 pounds, Marcus Mariota has a perfect body for an NFL quarterback. His strong arm and athletic frame also make him ideal for the way the NFL is moving these days towards mobile QB's. While pocket passers will always have a place and Mariota has all the skills to throw from the pocket, his ability to scramble, extend plays, throw on the run and call some option offense adds an extra dimension to his pro stock. Before the 2013 season, Teddy Bridgewater was the run-away top QB prospect. Mariota has made it a race for that title and, if a team falls in love with him, he could be the first quarterback off the board if he decides to enter the draft.
See All NFL Draft Profiles and Rankings