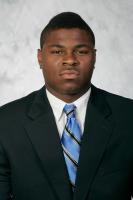 Khalil Mack, Senior, Linebacker, Buffalo
Overview:
Not many Buffalo Bulls make it to the top of NFL draft boards. In fact, only three players from Buffalo are even in the NFL this season. This makes Khalil Mack's career even more outstanding. The senior linebacker has improved each season he's been at Buffalo. Redshirting in 2009, Mack accounted for 14.5 tackles for loss and 4.5 sacks as a freshman in 2010. Those numbers went up to 20.5/5.5 as a sophomore and 21/8 as a junior. Now, in the midst of his senior season, Mack has already reached comparable numbers, proving he is one of the best rush linebackers in the country, regardless of what school he attends. But if Mack could only rush up field, his stock may not be as high. Good thing he has other skills.
Final Projections:
With a number of interceptions, pass breakups and forced fumbles, Khalil Mack is a complete linebacker. He can play in space, defend the pass and the run. He also has a chance to set the career record for tackles for loss and forced fumbles. But numbers notwithstanding, the most impressive thing Mack has done may be catching the eyes of draft scouts playing in the Mid-American Conference. Although great pro players come from small schools each and every season, it is rare to have a first round pick play his ball in Buffalo. If Khalil Mack hopes to accomplish as much, he just needs to finish out his senior year strong and keep doing what he's doing.
See All NFL Draft Profiles and Rankings