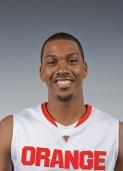 Kris Joseph, Senior, Small Forward, Syracuse
Overview:
After his second year in college, Kris Joseph was a solid rebounder and contributor to the <?xml:namespace prefix = st1 />Orange. He was simply an okay scorer though. So what does he do? Like any player who cares about his game, he works to improve his scoring. Joseph's junior season saw his scoring average jump nearly 50 percent, including hitting 45 threes, 29 more than his freshman and sophomore seasons combined.
With the size and athleticism to be serviceable on the defensive end, Joseph can make a name for himself his senior season if he jumps his offensive production yet again. The reins of the Syracuse Orange are up for grabs and conference Player of the Year is not out of the question for Joseph if he is able to take them.
Final Projection:
Kris Joseph can remain in first round contention by simply doing what he did last year. Another season like his stellar junior campaign will leave NBA teams satisfied with what his skills are and what he is capable of contributing at the next level. And yet, if his game improves again, another jump in scoring production without sacrificing efficiency, teams may begin to consider Joseph even higher than the back end of round one. Potential is nice but there is something to be said for results, especially coming from a forward battling night after night in the Big East conference.
See all NBA Draft Profiles and Rankings