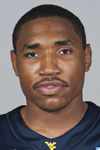 Kevin Jones, Senior, Power Forward, West Virginia
Overview:
The truth about Kevin Jones' draft prospects seems pretty clear. He does not excel at any one aspect of the game.
He has okay size for a power forward but does not block shots. He takes care of the ball rather well but doesn't create shots for teammates either. He can score the ball but not consistently and cannot shoot from the outside. I suppose his greatest strength would be his rebounding and even that is not done on a consistent basis. Ultimately, the best compliment I can pay to Kevin Jones is he made great strides from his freshman season to his sophomore season. The problem is he's a senior and he got worse last year when the Mountaineers needed him more.
Final Projection:
I hate to say someone will fail in the NBA because there is really no way to know for sure. It is quite possible that Kevin Jones will find a niche, a team that can use him in certain spots. He may turn into a solid role player off someone's bench who does in the NBA what he does right now, occasionally put up points and rebounds. There is no upside here though and this is why Jones will probably go undrafted or may just sneak into the second round of the 2012 draft.
See all NBA Draft Profiles and Rankings