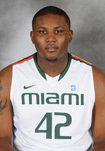 Reggie Johnson, Senior, Center, Miami (FL)
Overview:
After flirting with the idea of the NBA, Miami center Reggie Johnson will return for his junior season. In 2010, the redshirt sophomore put up 11.9 points per game, ranking him third on the Hurricanes in scoring. Where Johnson really has an impact though, is on the glass, ranking third in the ACC in rebounding. The 6'10", 300 pound big man from North Carolina pulled down a team high 9.6 boards a contest, nearly averaging a double-double for the year. Johnson grabbed 347 rebounds in total, the most by a Hurricanes player since Rick Barry reeled in a school record 475 rebounds in 1965.
Johnson was one of the more skilled centers in the ACC last season, earning All-ACC Honorable Mention, quite an accomplish for someone who didn't play organized ball until his sophomore year in high school.
While still raw, Johnson has potential and size, two things NBA coaches and scouts rave about. However, he will need to continue to improve on offense and get his body NBA ready.
Final Projection:
It is hard to say when Reggie Johnson should expect to hear his name called when he decides to enter the draft. While early predictions have him going late in the second round, some believe he has the chance to be a lottery pick down the road. With the size and raw ability he possesses, he will most likely end up in the NBA. His junior season will go a long way in determining how valuable he becomes heading towards the 2012 NBA draft.
See all NBA Draft Profiles and Rankings