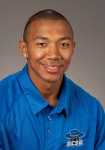 Orlando Johnson, Senior, Shooting Guard, UC Santa Barbara
Overview:
Orlando Johnson began his collegiate career at Loyola Marymount where he had one of the best freshman campaigns ever for the Lions. The 6-5 shooting guard led the team in scoring and rebounding and set or tied school records for a freshman in both of those categories. Following his success during the 2007-2008 season, Johnson opted to transfer to UC Santa Barbara.
After sitting out a year, Johnson picked up right where he left off during his first season with the Gauchos. He led the squad with 18.0 points per game and added 5.4 rebounds and 2.3 assists. As an upperclassman, Johnson took on an even bigger role for the Gauchos, averaging 21.1 points, 6.2 rebounds, 2.9 assists, 1.2 steals and leading his team to the NCAA Tournament.
Final Projection:
Johnson is not your typical scorer from a smaller conference. At 6-5, he has the size to be a wing in the NBA. He can shoot from anywhere on the floor, as his 40.5 percent three-point percentage from the 2010-2011 campaign would indicate, and he can hit the glass extremely effectively against any opponent. With another solid season at UCSB, Johnson could see his draft stock start rising very quickly.
See all NBA Draft Profiles and Rankings