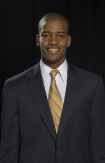 Kim English, Senior, Shooting Guard, Missouri
Overview:
Kim English started some games during his freshman campaign in 2008-2009, but was mostly used as a shooter off of the bench. He performed in that role very well, connecting on 37.3 percent of his attempts from beyond the arc and averaging 6.5 points per game.
As a sophomore English had a breakout season. He learned to use his 6-6 frame to attack the basket and continue to hit the long ball. He knocked down two three-pointers per game and ended the year with 14.0 points per game. English even averaged 3.4 rebounds and picked up his defensive intensity. On any given day English could explode offensively and he scored 20 points or more on ten occasions.
Final Projection:
By contrast to his sophomore season, English had a disappointing junior campaign. His three-point shooting dropped off a little bit and a year after leading the Tigers in scoring, he was fifth on the team with 10.0 points per game. However, English did make strides in his ball handling and defensive game. If he can beat defenders off the dribble more consistently and continue to shoot the long ball relatively well, there is little reason to believe that English cannot be a fine player in the NBA. Even when he is not scoring, his lengthy frame and quick feet make him a fine defender at any level.
See all NBA Draft Profiles and Rankings