Behind the potent offense of Adam Montague and Tim Kreutz, the playmaking of Jay Chapman and the superb defense of back Kevin Cope, the Michigan State men's soccer team is having another successful season under Coach Damon Rensing. When the Spartans are playing at the friendly confines of DeMartin Soccer Complex, the Red Cedar Rowdies have certainly boosted the play of the home team. The 50 strong group of Spartan supporters are always in great singing form, adding a classic soccer atmosphere on the banks of the Red Cedar.
College Sports Madness Student Section of the Week
Michigan State's "Red Cedar Rowdies"
Name: Luke Ferris
Your Relation to the Student Section: Creator/Director
Student Section Name: Red Cedar Rowdies
Number of Members: 50
Most Popular Cheer/Song/Chant: "We Lova Ya"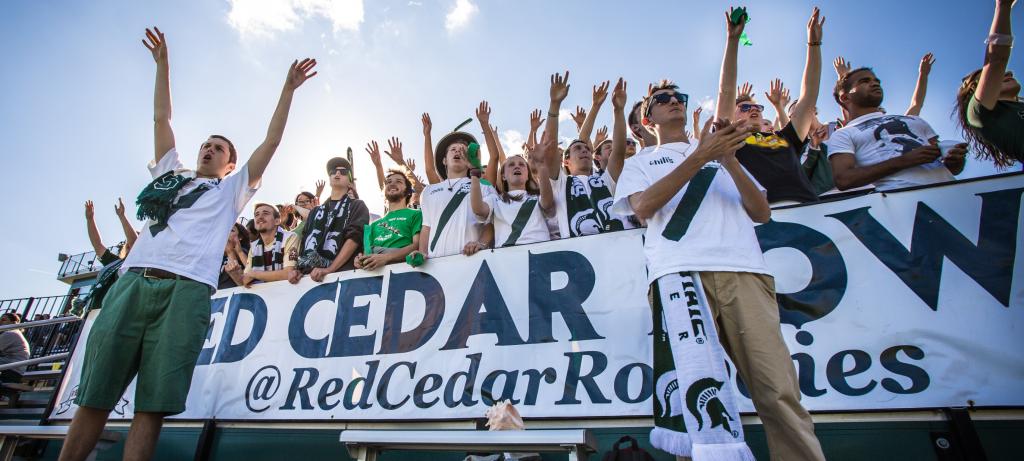 How did your student section get your name?
The Red Cedar river runs right past the DeMartin Soccer Stadium at Michigan State, so we used that inspiration to formulate the name. "Rowdies" was chosen because it's what we do.
What is the most memorable moment during your time with the student section?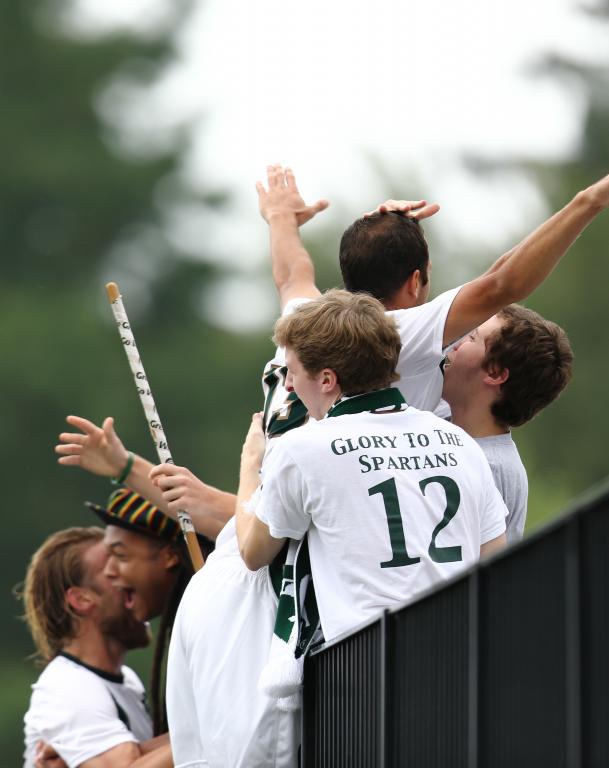 Last season we travled to Notre Dame to cheer on our Spartans in the second round of the NCCA tournament. Our Athletic Director Mark Hollis paid for our bus and food to travel down to the game. He rode there with us and even got us a police escort to the soccer complex.
How does your student section prepare for game time?
We meet at the famous Spartan statue in the central part of campus to get pumped up and sing some songs. Then we all march to the soccer stadium together. We call it the "March to the Match".
What is the most amusing costume somebody has worn in the student section?
We tend not to go over the top on ridiculous costumes. Soccer supporter culture is all about dedication and passion. Yes, we encourage creativity, but what we really want to see is people wearing our colors and raising their scarves to support the team. We'd rather have you sing your heart out than dress up in a costume.
What is the most hilarious sign you have ever seen in the student section?
Our signs are more supportive than funny. Last year we had banners that read "Prepare for Glory" and the Molon labe slogan written in Greek, so the idea again is to support the team more than be funny. But we have Michigan at home this year so expect some humorous signs hinted towards our rivals.
See All the College Sports Madness "Madness of the Week" Articles