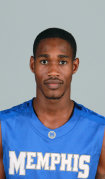 Will Barton, Sophomore, Shooting Guard, Memphis
Overview:
Coming out of high school just about everybody had Will Barton pegged as one of the top ten recruits in the nation. On a young Memphis team he would be able to make an impact right away and that is exactly what he did. While the Tigers failed to live up to their lofty expectations that have come with years of success, Barton emerged as a special talent and a very well rounded player for a freshman.
During his freshman campaign in 2010-2011 he led the Tigers with 12.3 points per game. That was not much of a surprise as Barton was well known as a scorer. He can use his 6-6, 175 pound frame to attack the basket or shoot over small defenders. His outside shooting numbers were disappointing, but he is still young and has time to develop his three-point shot.
Final Projection:
What was a mild surprise was everything else Barton could do. Tagged by many as a pure scorer, Barton did a decent job finding his teammates and dished out 2.8 assists per game. He turned the ball over a little too much, but anybody on the Tigers during the 2010-2011 season who had a positive assist-to-turnover ratio did a good job comparatively speaking. Barton also used his size to hit the glass hard and his long arms to nab 1.5 steals per game. Barton may not have been the dynamic scorer most people expected, although he will be soon, but he did prove that he can do more than score and that will get him drafted in the first round of the NBA Draft whenever he decides to go pro.
See all NBA Draft Profiles and Rankings