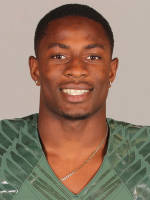 Ifo Ekpre-Olomu, Junior, Cornerback, Oregon
Overview:
There are a number of factors at play that are underrating Ifo Ekpre-Olomu. First and foremost, announcers and analysts have trouble spelling or pronouncing his name. As silly as it sounds, that may prevent them from mentioning him as much. Second, he plays on the Oregon Ducks, who are known for one of the most electric and exciting offenses in college football this century. Their offense gets so much news that everyone just assumes their games are always high scoring and not that they had a top 25 scoring defense last season. They also led the nation in turnover margin, which is partly due to that potent offense but also because the defense forces mistakes. Ekpre-Olomu is a major part of that, picking off four passes as a sophomore, tied for second on the team. He also broke up 16 passes and forced an insane six fumbles last season.
Final Projection:
Ekpre-Olomu's ball skills are elite. As evidenced by the pass defense numbers and the forced fumbles, all opposing offenses need to be extra careful and a little scared bringing the ball anywhere near him. Although he may not possess the high end speed or man to man coverage skills of some of his peers, he is perhaps the best, all-around cornerback in the country. With tackling ability and big hit ability, he has the instincts to stick as a corner at the next level but may also be considered as a safety in some systems. A first round projection is likely if Ifo declares for the draft after his junior year.
See All NFL Draft Profiles and Rankings