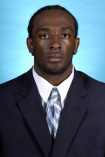 Dwight Jones, Senior, Wide Receiver, North Carolina
Overview:
Dwight Jones spent the better part of two and a half years biding his time. The lanky wide receiver only played in three games as a freshman in 2008 and failed to tally a reception. The following year Jones only saw action in seven games. He did tally five receptions for 21 yards, but obviously failed to make much of an impact. Heading into the 2010 campaign, Jones was one option to help replace Greg Little. However, his season started much like the 2009 campaign ended.
But that changed late in 2010 when Jones became quarterback T.J. Yates' favorite target. Jones had four 100 yard receiving games in the last seven regular season contests. On the year he tallied a team high 62 receptions for 946 yards and four touchdowns.
Final Projection:
At 6-4 Jones has the size to be a dynamic receiver. He will never put up huge numbers at UNC due to the offensive system and quarterback uncertainties, but he has all the skills needed to be the next Hakeem Nicks. Jones has plenty of speed and it will be his strength that can keep him down draft boards. Jones has been adding some weight, but he needs to remain tough at the line of scrimmage or stronger corners can give him a hard time.
1/5/12 Update:
The North Carolina defense may have led the way for a Tar Heel bowl appearance, but the offense had their moments too and Jones was a huge part of that success. The receiver ended the year with 85 receptions for 1,196 yards and a dozen touchdowns. On a team where many expected bad offensive numbers across the board, those are some good numbers. Jones' good senior season has gotten him some attention and he will get more attention due to his measureables. By the end of it all, he could be a borderline first round pick.

See all NFL Draft Profiles and Rankings