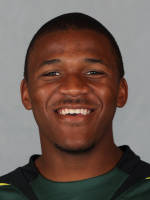 LaMichael James, Junior, Running Back, Oregon
Overview:
LaMichael James electrified the Pac-10 as a redshirt freshman in 2009. He has not stopped since. Back in 2009 he had to beat out LeGarrette Blount and Kenjon Barber for carries. He managed to earn the starting job and ended the campaign with 1,546 rushing yards and 14 rushing touchdowns. He even caught 17 passes and returned a few kickoffs too.

As good as James was as a freshman, he was even better as a sophomore. Leading the Ducks to the BCS National Championship game, James carried the ball 294 times for 1,622 yards and 21 trips to the end zone. Quarterback Darren Thomas dumped the ball off to his back 17 times that season and James turned three of them into scores. In this offense, he is extremely tough to stop as every team in the Pac-12 knows all too well.

Final Projection:
The big question is how does the 5-9, 180 pounder fit into the NFL? He gets a lot of carries, but he is not a between the tackles type of rusher. That is not a huge issue in the NFL these days as most teams are very happy to have a dynamic back like James split time with a bruiser. James' ability to make things happen cannot be matched by most collegiate players and he will make a great change of pace back in the NFL when he decides to go pro.
1/5/12 Update:
James will skip out on his senior season with the Ducks and head to the NFL. His game is based on speed, so nobody can blame him for going while the getting is good. He would never be a workhorse back that warrants a first round pick, so leaving and getting drafted in the second or third round in the 2012 NFL Draft is a better idea than getting drafted in the second or third round of the 2013 NFL Draft and risking serious injury.


See all NFL Draft Profiles and Rankings