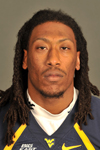 Bruce Irvin, Senior, Defensive End, West Virginia
Overview:
Few junior college transfers made a bigger impact in 2010 than West Virginia defensive end Bruce Irvin. Cam Newton would be one of those who had a better season, but what Irvin did for the Mountaineers defense was impressive. He started off a little slow while making the adjustment to the top level of college football, yet that did not last long.
Of Irvin's 21 tackles on the season, 14 of them were sacks. By the end of his junior campaign Irvin was a dominating pass rusher and few teams had any way to stop him. He will need to evolve his game in 2011 and continue to improve to be a top rated prospect heading into the 2012 NFL Draft, but he has the physical skills to emerge as a quality pass rusher.
Final Projection:
Without adding a ton of weight, Irvin will not be able to play defensive end in the NFL. He is 6-3 and a mere 235 pounds. In college he uses his speed to get around bigger, slower offensive lineman. That will not work as well at the next level. However, as a pass rushing linebacker in a 3-4 scheme, Irvin could just add a few pounds and remain a solid speed rusher.
1/5/12 Update:
Irvin has added some weight and appears to be a fine rush outside linebacker prospect at the next level. Playing defensive end in West Virginia's 3-3-5 alignment in 2011 was not an ideal situation for Irvin, but that did not stop his productivity. On the year he tallied 40 tackles, 15.0 tackles-for-loss and 15.0 sacks. He even forced three fumbles, including one in the Orange Bowl blowout over Clemson. At this point Irvin could be a second round prospect, but proving he has the instincts to play more linebacker would solidify his spot in the second round.
See all NFL Draft Profiles and Rankings