Ricketts' Hitting Leads Oklahoma to National Softball Title
The 2013 Oklahoma softball media guide has a picture of standout pitcher-hitter Keilani Ricketts on the cover. The headline reads: Dreams do come true. For Ricketts the dream was to win the NCAA national softball title. Last year, the Sooners came close, winning the opening game of the best-of-three championship series before losing the last two games to national champion Alabama, which won its first national softball title as well as the first one for the SEC.
Tuesday night, before a turnout of 8,527 at ASA Hall of Fame Stadium, Ricketts realized her dream of winning an NCAA national softball title by leading the OU Sooners to a 4-0 win over the University of Tennessee Lady Vols in game two of the championship series after winning the night before 5-3 in 12 innings.
Although Ricketts wasn't in the circle, she led the way for the Sooners by driving in all the runs. She blasted a three-run homer over the fence in right in the third inning, then grounded out in the seventh inning for the second out, scoring Lauren Chamberlain on the play for the fourth and final run. Chamberlain, who batted .421 in the series, nearly missed hitting her fourth homer in the inning with the ball hitting the top of the fence instead for a triple. After Georgia Casey popped out to shortstop, Ricketts hit a grounder to second base, with Chamberlain sliding across with the insurance run. Chamberlain also was on base when Ricketts connected for her 15th homer of the year off losing pitcher Ivy Renfore. After Ricketts hit the three-run blast into the bleachers in right, Tennessee pulled Ivy and brought in her sister, Ellen, who hurled the remainder of the game. Ivy Renfore (22-5) allowed three runs, all earned, three hits and struck out two and walked two. Ellen, who was the losing hurler on Monday, allowed four hits and one run in four and two thirds innings.
With Ricketts, who was named the tournament's Most Outstanding Player, the DP, lefty Michelle Gascoigne handled the pitching and was outstanding. She limited the Lady Vols to only three hits, didn't walk anybody and fanned 12 including a streak of five consecutive strikeouts over three innings and striking out 10 of the last 16 batters. A senior, Gascoigne collected her 19th win of the season against only three losses as the Sooners finished the year 57-4 after going 54-10 last year in finishing runner-up. Tennessee, which finished 52-12, only once got a runner as far as second base and that was in the second inning when shortstop Madison Shipman singled and was sacrificed to second before Gascoigne got the next two batters on a fly out to center field and a strikeout. She mixed her pitches well and was a model of efficiency throwing only 87 pitches in making her first start since May 11. The two Renfroe sisters threw 122 pitches.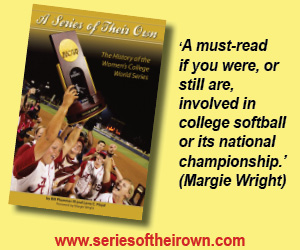 OU won five consecutive games in the WCWS and closed the 2013 season with 13 consecutive wins in a row including 10 in the post-season. It finished with a .299 batting average in the WCWS along with a fielding percentage of .982. Ricketts won four games and had an ERA of 1.35 with 11 hits allowed in 31 innings with 14 walks and 39 strikeouts. She also batted .412 and had six RBI including two homers and two doubles. Chamberlain had 22 total bases and five RBI and was one of six Sooners named to the all-tournament team. Other Sooners named included Ricketts, Brianna Turang, Georgia Casey, Jessica Shults and freshman Callie Parsons. Joining them were Taylor Edwards, Nebraska; Blaire Luna and Kim Bruins, Texas; Lauren Gibson, Ellen Renfroe and Madison Shipman, Tennessee.
It was the second NCAA national softball title for OU head coach Patty Gasso, who won her first in 2000, then watched last year as the Sooners lost two consecutive games for only the first time in the season. OU was the odds-on favorite this year and the Sooners prevailed against seven other top teams in the WCWS, coming from behind in three games.
"I cannot tell you how honored I am to be the coach of this team because they're just special, and they know how to win; and they fought, and they were never afraid," said Gasso. "One year ago we watched another team celebrate right in front of us, and we, as a team prayed together and thanked God for the opportunity to be in a National Championship and knew that this was something that we needed to learn from," Gasso said. "When that last out was recorded, all of a sudden the Sooners were supposed to be the team to beat", continued Gasso. "It's very difficult to live that way. But this team is resilient, and we followed God's lead. We followed it. We followed the path, and it was windy at times, but we never stepped off; and we just did it together. I cannot express to you how proud I am."