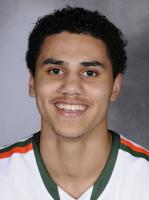 Shane Larkin, Sophomore, Point Guard, Miami
Overview:
Shane Larkin opted to take advantage of his stellar season with the Hurricanes of Miami and head to the NBA after his sophomore season. His draft stock would not likely get any better than it is now. Miami came out of nowhere to win the Atlantic Coast Conference regular season and conference tournament titles. The play of Larkin had everything to do with that success. The point guard led the team with 14.5 points, 4.6 assists and 2.0 steals per game.
Just a year earlier Larkin was mostly just a defensive specialist who started a touch over half of Miami's games. At the time he rarely looked for his shot. Even as a sophomore when he led the squad in scoring, Larkin looked to pass first. However, he did turn into an efficient scorer, shooting 47.9 percent from the floor and 40.6 percent from beyond the arc.
Final Projection:
Larkin's ability to score will make him an attractive option for many teams late in the first round or early in the second. He will still be a pass first point guard who plays solid defense, but he can be a scorer as well. His range goes out to the NBA three-point line without much of a problem and that can at least keep the opposition honest. Most likely, Larkin will find a spot in the NBA for years to come as a specialty point guard. However, at this point he has the potential to turn into something special and that makes him an attractive option for an NBA team willing to take that chance in the first round.
See all NBA Draft Profiles and Rankings