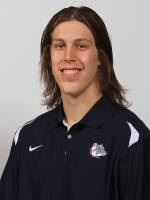 Kelly Olynyk, Junior, Center, Gonzaga
Overview:
Kelly Olynyk burst onto the scene during his junior season. The seven-footer led the way for a Gonzaga squad that spent a good chunk of the season as the top ranked team in the country. Olynyk averaged 17.8 points, 7.3 rebounds and 1.1 blocks. The Bulldogs may have exited the 2013 NCAA Tournament earlier than expected for a number one seed, but Olynyk was basically the only player who had a good game in the upset loss to Wichita State. He led all scorers with 26 points and added nine rebounds.
The road to success during the 2012-2013 campaign was not an easy one for Olynyk. Back in 2009-2010, the lanky freshman averaged just 3.8 points per contest. The following season his playing time barely increased and Olynyk earned just four starts on the year. He was more productive as a sophomore, but he still had a long way to go. For the 2011-2012 campaign it appeared that Olynyk would again be stuck on the bench. As a result, he and Coach Mark Few opted to utilize his redshirt year. It turned out to be a decent move for Olynyk and Gonzaga. Although he left early, Olynyk made huge strides during his time on the sidelines.
Final Projection:
Olynyk really only has one season of major experience at the collegiate level. That is extremely rare for a likely lottery pick who spent four years on a college campus. Big guys often take longer to develop, but that has not been the case for other top centers in recent years. As a result, some NBA teams may see Olynyk as a player who has less of an upside than some others in this draft class. What Olynyk does have that other seven-footers may not is the ability to pass the ball and step out and shoot. That skill set and his productivity during last season at Gonzaga should be enough for Olynyk to be a lottery pick.
See all NBA Draft Profiles and Rankings