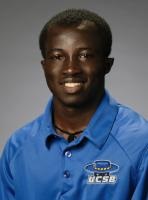 Ema Boateng, Sophmore, Midfield, UC Santa Barbara
Overview:
Ema Boateng finished last season with 12 points (4 goals, 4 assists) ranking him third on the team for UCSB. Boateng played in 18 matches throughout the season and started 16 of them. Out of his 42 shots, he found the goal 50 percent of the time, recording 21 shots on goal proving his accuracy.
Before UCSB, Ema played on the pitch for the Santa Barbara Soccer Club and the South Coast Strikers. He was named 2011 Milk Cup Most Valuable Player in Northern Ireland while with the Strikers. In high school he was named Gatorade Player of the year and CIF Southern Division 7 player of the year two years in a row.
Final Projection:
Ema Boateng didn't throw a bunch of numbers up on the board his freshman season but he did earn the respect of the team. Now that he is acclimated to the college pitch he will start to shine grabbing, the eye of the pro scouts.
See All MLS Draft Rankings and Profiles