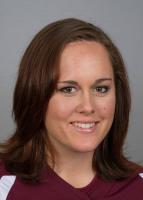 Meagan May, Senior, Catcher, Texas A&M
Throws: Right, Bats: Right
Overview:
May, a right handed hitting catcher, batted .293 with 44 hits in 2012. Drawing 56 walks however, boosted her on-base percentage to a healthy .493. May's bat has pop. She belted 14 home runs, producing a .580 slugging percentage and 37 RBI's. She was a Big 12 Second Team selection in 2012 as well.
Final Projection:
A & M moves to the SEC this year. Instead of Ricketts and Luna, May will be facing Traina, Rogers and Montemayor. How she fares against them at the plate could affect her draft status. Defensively, May threw out eight of 28 base stealers, committed just two errors and had 27 assists.