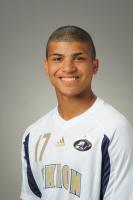 DeAndre Yedlin, Sophmore, Defender, Akron University
Overview:
DeAndre Yedlin is another brick in the wall of Akron's impenetrable defense. But he also provided some offense when needed during the 2011 season as a freshman, including one goal. Listed as a defender, Yedlin not only knocked in one goal but had four shots on goal and recorded six assists. Not impressive stats, but for a defender it shows he can play at more than one place on the pitch.
Yedlin was rated the number ten freshman in the country by Top Drawer Soccer and All-MAC First Team after starting in 16 matches and logging minutes in all 23 games at right back.
Final Projection:
A true defensive player with a pinch of offense makes Yedlin a threat to the opposing teams because he can go both ways. He won't hesitate to take a shot or pass the ball on when he needs to. The pros like players like Yedlin because they can move them around the pitch without thinking twice. As long as Yedlin can keep up his skills on the field that he showed off in the 2011 season, he will have no trouble making the draft list in January.
See All MLS Draft Rankings and Profiles