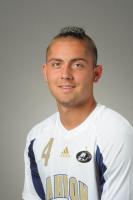 Bryan Gallego, Sophomore, Defender, Akron University
Overview:
Bryan Gallego started all 22 games of his freshman career helping Akron's defense in the 2011 season. Gallego began the season at center-back before moving to defensive midfield halfway though 2011. He was awarded College Soccer News Freshman All—American, All-MAC second team, All-Ohio team, and finished the season rated as the number six freshman in the country by Top Drawer Soccer.
Before entering the collegiate level, Gallego's career had been highlighted by being a member of the U.S. under-18 and under-20 teams. He was also a three-time captain at the N.Y. Red Bulls Academy (U-16, U-17,U-18) and won three straight high school championships, one regional championship, three state cup championships and one national title.
Final Projection:
After his outrageous pre-college career Bryan Gallego was the 10th-ranked recruit in the nation and a five star prospect per Top Drawer Soccer. When he entered the college level he didn't disappoint. While Akron is looking for another NCAA title in the 2012 season, they will rely on Gallego's defensive skills to help keep them from getting knocked out and the pros will be watching. As long as he can keep up his momentum, Gallego will be a top defender in the NCAA and a hopeful for the 2013 draft.
See All MLS Draft Rankings and Profiles