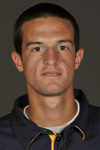 Eric Schoenle, Senior, Defender, West Virginia
Overview:
Eric Schoenle came to West Virginia in 2009 and played every minute of every game that season in the middle of the Mountaineers defense. That year WVU allowed just 12 goals and Schoenle was a big part of that success. By 2010 Schoenle was a staple in the Mountaineers defensive backfield, but he also started to come up and use his skills to grab a couple assists and goals. By 2011, Schoenle tallied three goals and six assists.
But it is his defensive skills as a centerback that have MLS scouts excited. He has proven time and time again at West Virginia that he is one of the best centerbacks in the nation and his experience at the collegiate level will make him an immediate impact player.
Final Projection:
At 6-2 and 147 pounds, Schoenle has the size to be a big playmaker on both ends of the pitch. The lefty could stand to gain a few pounds to do a little better job of fighting off opposing attackers in the air. Other than that, Schoenle has all the skills he needs to be a first round draft pick.
See All MLS Draft Rankings and Profiles