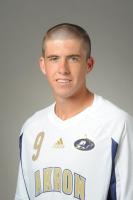 Aodhan Quinn, Junior, Mid-Field, Akron University
Overview:
Aodhan Quinn was at Bradley his freshman year starting in all 22 games and leading the Braves in assists (10) in the 2010 season, setting a school record for most assist by a freshmen. Quinn was second for the Braves with 21 shots on goal netting three of them.
When Quinn came to Akron in 2011 he started in all 23 matches getting another ten assists (eighth nationally) and netting another three goals from 20 shots on goal, helping the Zips to regular season conference champions and making it to the final 16 in the NCAA championship tournament.
Final Projection:
Quinn has proved to be a very consistent player with almost identical stats his first two seasons on the collegiate level. But Quinn needs to not only keep his stats up but net a few more goals if he expects to be at the top of the 2013 draft in January.
See All MLS Draft Rankings and Profiles