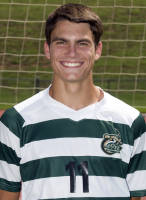 Giuseppe Gentile, Sophomore, Forward, Charlotte
Overview:
Giuseppe Gentile had some pretty high expectations placed upon him when he made the short trek over to the Charlotte campus, but few expected him to make such a huge impact right away. The 49ers had a great 2011 campaign and Gentile deserves a lot of the credit.
It was Gentile who scored the game winner against Akron in the NCAA Tournament. It was Gentile who scored the tying goal against Connecticut in the quarterfinals, eventually allowing Charlotte to advance on penalty kicks. On the year, Gentile scored ten goals and added two assists. He was not even a starter at first, but that changed pretty quickly.
Final Projection:
Gentile still has something to prove at the collegiate level before he is ready to take the next step. One great year is one thing, but the 6-0, 165 pounder is not the most athletic striker out there. He may be more technically sound and can finish with the best of them, but he has to be productive. MLS teams may not be willing to take a chance on his potential like they will for some others. That should not be an issue for Gentile since there are no signs of his production dropping in 2012 or any time soon after.
See All MLS Draft Rankings and Profiles