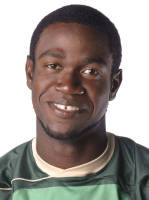 Ashani Fairclough, Senior, Defender/Midfielder, University of South Florida
Overview:
Ashani Fairclough made a name for himself amongst the Bulls during his 2009 freshman season, playing in all 21 games. Proving to be a defensive asset to the team with a splash of offensive ability, Fairclough earned five points on the season with one goal and three assists. Fairclough logged minutes in 17 matches of the 2010 season and in 2011 helped the Bulls defense to seven shutouts for the season. He also ended the 2011 season third on the team with four assists and added one more goal to his career stats.
Prior to the college level, Ashani Fairclough defended for the 2007-08 Jamaican U-17 national team, which he captained, then aided the U-20 team in 2009.
Final Projection:
Consistent defense is Fairclough's strength for the upcoming draft. Continuing to help the Bulls to shutouts and picking up a few assists and a goal here and there to show his ability to not just defend but score when needed, will help him in the 2013 draft.
See All MLS Draft Rankings and Profiles