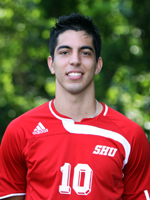 Marcello Castro, Senior, Defender, Sacred Heart
Overview:
Marcello Castro has been a dominating force for Sacred Heart since he stepped foot on campus in 2009. The 6-3 central defender started 16 games during his freshman campaign, but did a lot more than just defend. He led the squad with three goals. In 2010 and 2011 he was named the NEC Defensive Player of the Year and he was the conference player of the year in 2011. Castro again led the Pioneers with five goals in 2010 and six in 2011.
Castro uses his big 6-3 frame to score and it is that big frame that makes him an intriguing prospect at the next level.
Final Projection:
Castro uses his size very well on both ends of the field. Defensively, the opposition will rarely have any luck going through the air when Castro is anywhere near the box. He is also pretty quick and nimble and more than capable of keeping up with some talented strikers on the ground.
See All MLS Draft Rankings and Profiles