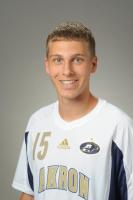 Scott Caldwell, Senior, Midfield, Akron University
Overview:
Scott Caldwell began his collegiate career in 2009 at Akron a little slow with only four shots on the season and one goal while appearing in 19 games as a true freshman, but things picked up towards the end of the season. Caldwell found his stride shooting a perfect 2-for-2 in shootouts at the College Cup and logging 33 minutes against UNC in the NCAA semi finals and 66 minutes against Virginia in the national championship. That stride carried over in the 2010 season where Caldwell played in 24 out of 25 games, receiving Academics All-MAC and Most Outstanding Offensive Player at the College Cup. Caldwell showed how he is a clutch player by netting the game winner in a 3-2 win over West Virginia in the second round of NCAA tournament, then tapping one in during a shoot-out to take the win over Cal in the quarter finals, and finally hitting a mid range game winning shot in the 2010 NCAA national championship. In the 2011 season Caldwell continued to grow, ending the season with six goals and showing that he isn't afraid to pass leading the team with 11 assists while starting all 23 matches. Playing a part in four game-winning goals, Caldwell again showed how clutch he is.
Caldwell didn't only shine on the field but he excelled in academics at Akron as well producing a 3.95 GPA in accounting. Caldwell received NSCAA Academic All American First Team, CoSIDA Academic All America second team, and Academic All-MAC two years in a row to add to his collection of awards he received over the past three seasons with Akron.
Final Projection:
Scott Caldwell has definitely grown over his career as a Zip and if he can continue his stride through his last season, keeping with his game-winning shots and plenty of assists, he is sure to catch the interest of the MLS. Even though Caldwell is a clutch player, netting a few more goals will increase his chances to be a higher pick in 2013.
See All MLS Draft Rankings and Profiles