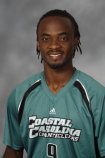 Ashton Bennett, Senior, Forward, Coastal Carolina
Overview:
Ashton Bennett came to Coastal Carolina as a junior in 2011 and dominated. Bennett led the team and the NCAA in goals (23), points (53) and points per game (2.41). Bennett showed his accuracy with only 35 shots on goal and netting 23 of them, ending the season second in the NCAA with goals per game (1.05). Bennett was awarded NSCAA First Team All-American after his outstanding performance in all 22 of Coastal's games. Tallying nine game winning goals, including a pair of hat tricks, it's no wonder why he was a Hermann Trophy finalist and received multiple first team and player of the week awards.
Prior to playing for Coastal, Bennett spent his first two collegiate seasons making goals and taking points for Cincinnati State Technical College. Bennett registered 25 points on 11 goals and three assists in just 14 matches his freshmen season. He then turned around and finished the 2010 season with 24 goals and 19 assists giving him 67 points his last year at CSTC.
Final Projection:
After three seasons on the collegiate level, all producing top ranked numbers in goals and points, this attacking performer will only go up on the 2013 draft list. His strong work and accuracy on the pitch shows he can make goals and with his assists and multiple awards, Bennett's resume scares Coastal's opponents. And, he looks good to the pros.