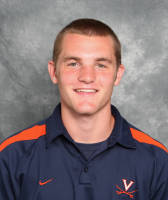 Will Bates, Senior, Forward, University of Virginia
Overview:
Will Bates had a big season in his 2009 freshman year at Virginia leading the Cavaliers with 12 goals out of 58 shots. Recording one assist, 25 points on the season, and getting a hat trick against Bucknell in the NCAA tournament helped Bates to receive NSCAA All-South Atlantic Region Second Team member and ACC's ALL Freshman team honors. Bates was also honored with ACC All-Tournament team for his game-winning shot against NC State in the ACC Championship match. Bates passed the ball more in the 2010 season with four assist but he wasn't afraid to take shots, netting eight of his 49 attempts. The Cavaliers' leading scorer had three game winning goals and assisted in two game winners to finish the season with 20 points.
Before suffering a knee injury against Virginia Tech in 2011 that put him out for the remainder of the season, Bates was ranked fourth in goals for the ACC and seventh nationally with 14. Bates played in 18 games recording four assists and a hat trick against Wake Forest. Even with the injury, Bates still made First-Team All-ACC and racked up 32 points, finishing the season 13th nationally for goals and 15th in points.
Final projection:
Bates has to continue to perform to his proven ability and record high numbers if he wishes to stay at the top of the MLS draft. Coming off of an injury last season, he has had time to recoup and strengthen up in preparation for the upcoming season. Taking shots and making goals is his number one priority to show he can be a contender in the pros.
See All MLS Draft Rankings and Profiles