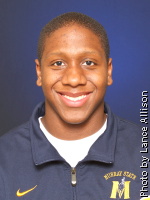 Isaiah Canaan, Senior, Point Guard, Murray State
Overview:
Isaiah Canaan wasted little time making an impact at Murray State. As a freshman he did not start a single game, but still ranked third on the team with 10.4 points per game. He shot 48.2 percent from beyond the arc and that great shooting would take him to the next level. As a sophomore Canaan turned into the Racers main scorer, but he was still spending most of his time off of the ball.
That changed during the memorable 2011-2012 campaign when Canaan led the Racers to a 31-2 overall record. He took the team over as an upperclassman, averaging 19.0 points and 3.6 assists. There was a question as to how he could respond taking over the point guard duties? Short answer: he did just fine.
Final Projection:
Canaan obviously has a lot going for him. He is a great shooter and a great floor leader. That can be a lethal combination. He plays tough defense and has the intelligence to break down opposing defenses and find open teammates even though he is more than capable of scoring himself. However, he is not a great athlete and, at 6-0, lacks the size of a traditional point guard in the NBA. Some will overrate Canaan because of his collegiate productivity and his ability to be a scoring point guard, but the NBA will also see a short point guard with average speed.
See all NBA Draft Profiles and Rankings