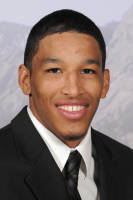 Andre Roberson, Junior, Forward, Colorado
Overview:
As a sophomore, Andre Roberson had one of the more outstanding years of any player in the country. Although the decrepit state of the Pac-12 might have aided this outcome, Roberson was tremendous all year, including through the postseason tournaments. He was one of a small number of players who averaged a double-double as well as over 1 block and 1 steal per contest. He also did all that while shooting over 50 percent from the floor. If his offensive game takes a jump this next year, NBA teams will be clambering for his services.
Final Projection:
A lot depends on his offensive development. The defense, hustle, motor skills are all there. If he learns how to score within the confines of an offensive set, rather than just with pure effort and athleticism, Andre Roberson will be taken in the lottery. If not, and teams get scared by the dreaded "tweener" threat, he could leak into the late first or early second round.
See all NBA Draft Profiles and Rankings