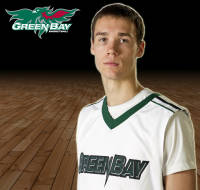 Alec Brown, Junior, Center, Green Bay
Overview:
As a freshman in 2010-2011, 7-1 center Alec Brown was the only player on Green Bay's squad to start all 32 games. He averaged 10.2 points, 5.6 rebounds and 2.1 blocks that season. As a sophomore he boosted those numbers to 13.8 points, 8.2 rebounds and 3.0 blocks.
Perhaps more impressively is the fact that Brown played 31.3 minutes per game. That is a lot of minutes for a 7-1, 222 pound big man. He can stay out of foul trouble and move up and down the floor. The Phoenix is not a squad that is running and gunning so they will wait for their big man, but Brown's conditioning is still impressive.
Final Projection:
Right now Brown would be a shot blocker at the next level. His numbers are good, but he plays on an average team in the Horizon League. Brown has not exactly gone up against the toughest big men college basketball has to offer on a daily basis. He will need to continue to gain strength and add weight and that will happen with time. But will that strength lead to more efficient scoring in the paint and better toughness on the glass?
See all NBA Draft Profiles and Rankings