Grand Valley State University has made a name for itself on a national level in large part due to the massive success of the football program at the Division II level. The Lakers football team has dominated their competition during the 21st century on the shoulders of coaches Brian Kelly, Chuck Martin and Matt Mitchell. When it comes to overall winning percentage at any level in football, GVSU only trails Michigan and Notre Dame. The cheer squad does its part in helping the football team and does so much more for the university located in the sleepy little town of Allendale, Michigan. When they are not cheering on the football or basketball teams, the Grand Valley State cheer squad is helping out in the community and creating their own dynasty performing at the NCA Nationals.
College Sports Madness Cheer Squad of the Week
Grand Valley State University

Your Name: Kelly Brown
Your Relation to the Cheer Squad: All-Girl Flyer
Cheer Squad Name: Grand Valley State University Lakers
Most Popular Cheer/Dance/Song: L-A K-E R You A Laker? Oh Yea!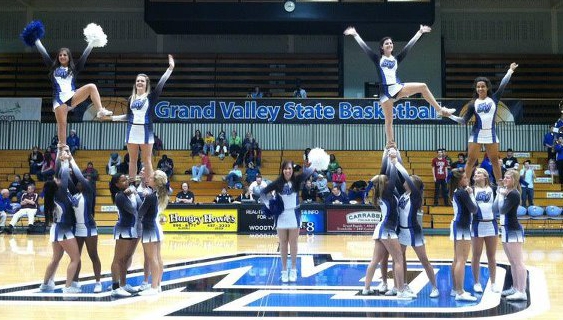 What is the most memorable moment during your time with the cheer squad?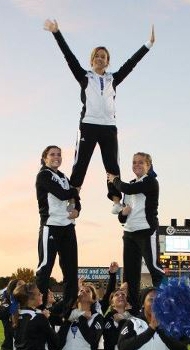 Performing at NCA Nationals this past April. We had tough competition and new teams in our division but we made it straight out of prelims to finals, which is a big accomplishment. We placed 4th, another big accomplishment for the teams that we were competing against, and we had some impressive skills. Running fulls, full twisting baskets, team doubles and full ups. These are all skills our team had never had before and being able to throw them at NCA Nationals was a huge achievement! We can't wait for next year to kill the competition.
How much preparation goes into your performance?
We practice three days a week for 9 hours total. We also have Friday Morning conditioning at 6 am, every few weeks. We competed at the Michigan State University competition and also put on a Friends and Family show before we left for nationals. We perform at all basketball and football games and do half-time performances at the start of the seasons.
What charitable causes does your cheer squad support?
We support and help out with the Breast Cancer walk in Grand Rapids every year and we also make donations to a friend of ours Alex, who needed to raise money in order to buy a Diabetic Alert dog (Ace).
http://www.youtube.com/watch?v=TCDeh2Go0zk
See All College Sports Madness Cheer Squads of the Week