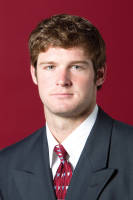 Tyler Wilson, Senior, QB, Arkansas
Overview:
Wilson is a talented prospect who sat behind Ryan Mallet for three seasons. When Mallet left for the NFL after graduation, the Razorbacks turned over the keys to their offense to the 6'3, 215 pound junior, Tyler Wilson. The high flying Razorback offense did not miss a beat with Wilson in the driver's seat. In his first season as a starter he threw for 3,638 yards and 24 touchdowns. He has 438 attempts, throwing a miniscule six interceptions and completing 63.2 percent of his passes. He tacked on four running touchdowns as well.
Final Projection:
Wilson has great size, a strong arm, great mind, and is very accurate. He sees the field well and reads the defense quickly. Once he finds the open receiver he unloads the ball quickly. He makes smart decisions and is a great leader. He looks poised and comfortable under pressure in the pocket. He will be a first round selection and if Tennessee's Tyler's Bray declares for the draft will battle to be the second quarterback selected on draft day.
12/11/2012 Update by Dan Levine:
The fact that Arkansas had a disastrous season did not help Wilson's draft stock. Luckily for him, he had a strong enough statistical season where he probably did not do too much damage to his reputation as a quarterback. Though his 2011 was better, Wilson eclipsed 20 touchdowns and 3,300 yards. This with SEC receivers that are often overlooked in the national conversation. While Cobi Hamilton was great for Wilson, he is not discussed as an elite receiver in the country. Wilson will have to separate himself come combine time to get a true assessment of where he will be selected.
See All NFL Draft Profiles and Rankings