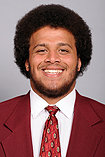 Khaled Holmes, Senior, Center, Southern California
Overview:
Offensive line prospects are routinely thought of as easier to project at the next level than other positions. If you have the strength and quick feet to succeed at the upper echelon of the collegiate game, with some coaching you should be able to excel in the pros as well. This has not always been the case with USC offensive linemen. Of course, the failures of ex-Trojans have little effect on Khaled Holmes' game. After moving from guard to center last year, Holmes enters his senior year at USC as a part of a veteran group of offensive linemen looking to get back to a BCS bowl after their postseason ban. His position change now gives him some versatility in the eyes of NFL scouts. Even though he does come into this season as perhaps the best center in the country, versatility never hurts.
Final Projection:
A very intelligent man with size and athleticism in a 6'4", 310 pound frame is something to marvel at. Khaled Holmes checks all of these boxes and hopes NFL general managers notice his wide array of useful skills as well. The center position is not usually one to play host to an early round draft selection. However, with experience playing guard previously at USC and experience as a tackle in high school, Holmes is not a usual center prospect. He should hope and expect to be off the board before the middle rounds even commence.
See All NFL Draft Profiles and Rankings