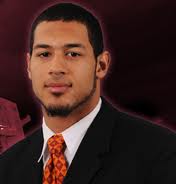 Logan Thomas, Junior, Quarterback, Virginia Tech
Overview:
A statuesque 198.12 centimeters above the Earth, weighing a robust 0.115 metric tons, Logan Thomas is what old Greek mothers picture when they hear the name of Zeus, the god atop Mount Olympus.
Okay, I apologize for the hyperbole, but it is hard to talk about Logan Thomas and not get into hyperbole. He is a quarterback specimen. His size is perfect. He is athletic and powerful when running. And his arm, oh what an arm! The problem for Thomas is putting it all together. He has not shown ideal accuracy when throwing the football down the field. His decision making will take time, as with any new starting quarterback. Of course, a lot rests on the success of this man besides his draft stock. Virginia Tech's entire season will go only as far as Thomas is able to take it.
Final Projection:
Having been compared to Cam Newton before his first start hardly seemed fair. Yet his draft projections may resemble the former Auburn Tiger. With quarterbacks shooting up draft boards so rapidly in recent years, a player with Thomas' tangibles and talents can easily find his way into the first round. Of course, if he takes that next step on the field and leads the Hokies to perhaps another conference crown and Orange Bowl berth, Thomas may not even have to wait that long. Size, strength and speed from the quarterback position cannot be taught at the NFL level, no matter how much the player wants to learn.
See All NFL Draft Profiles and Rankings