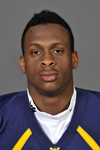 Geno Smith, Senior, Quarterback, West Virginia
Overview:
Despite what you may think, West Virginia's Geno Smith is not a running quarterback. Last season, while throwing for over 4,300 yards and completing nearly 66% of his passes, Smith ran for a net total of -33 yards on the ground. Because sack yardage is subtracted from a runner's total in college football, Smith's tally is that low. However, he still only had two rushing touchdowns and no game where he carried the ball more than seven times. Geno Smith is a passing quarterback and wants to be treated as such. He certainly can move around, which helps extend plays but Smith is going to put up huge passing numbers in this Mountaineer offense and may be in consideration of the Heisman Trophy and it will have nothing to do with his scrambling.
Final Projection:
With nearly a 4 to 1 career touchdown to interception rate and a career completion percentage bordering on 66%, Geno Smith should certainly find an NFL home as a quarterback. Another statistically impressive season as a senior, in West Virginia's first year as a member of the Big 12, should do nothing but help this cause. With good size and pocket presence, Smith is a much better prospect than people are giving him credit for. The problem is the offense he plays in. It is hard to separate his skills from the system, which is why he will probably fall to the middle rounds on draft weekend.
See All NFL Draft Profiles and Rankings