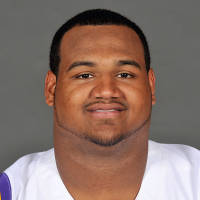 Chris Faulk, Junior, Offensive Tackle, LSU
Overview:
As a redshirt freshman in 2010 offensive tackle Chris Faulk started like many freshmen; sitting on the bench and biding his time. But an injury to right tackle Alex Hurst gave Faulk an opportunity to make an early impact. He earned two starts at right tackle late in the season and played extremely well. Faulk parlayed that success into a starting job on the left side as a sophomore. He even earned Second-Team All-SEC accolades from the Associated Press.
Faulk will once again anchor the left side of the line in 2012 as a junior. With another solid showing, he will drastically increase his draft stock. Faulk is 6-6 and 325 pounds and even has some room to add more muscle.
Final Projection:
Faulk could be one of the best tackles in the class of 2013 if he keeps playing like he did in 2011. If he sticks around for all four years, he will, presumably, be a three year starter at left tackle for one of the best teams in college football. For now he is a little bit of a project, but that will not likely be the case by the time Faulk hears his name called at the NFL Draft.
See All NFL Draft Profiles and Rankings