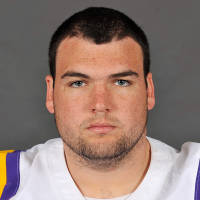 Alex Hurst, Senior, Offensive Tackle, LSU
Overview:
In 2009 Alex Hurst started his collegiate career at LSU as a backup guard. By 2010 during his sophomore campaign Hurst moved over to the tackle position. He also moved into the starting lineup. Hurst has been a staple at right tackle ever since. During 2010 and 2011 he has started 22 games and he will add to that total in 2012.
At 6-6 and 340 pounds, Hurst is a big offensive lineman. That size can sometimes cause problems, but Hurst does a pretty good job of staying low at the point of attack. He will be a very experienced tackle in the 2013 NFL Draft and has the potential to be the best one in the class. With all of the LSU defensive players that are likely first round candidates, it could be Hurst who is actually the first Tiger taken in the draft.
Final Projection:
But there is a long way to go. Hurst did have a fine junior season, but he needs to keep it up for another year. His sophomore season was cut short with an injury and NFL teams will want to see him string together a couple strong years before using a top ten pick on him.
See All NFL Draft Profiles and Rankings