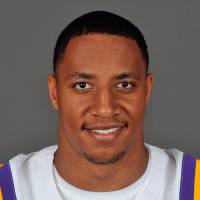 Eric Reid, Junior, Safety, LSU
Overview:
Lost in the LSU defensive backfield shuffle of Morris Claiborne and The Honey Badger, Eric Reid made a name for himself one November evening with an interception that was kind of a big deal. Also lost on the casual fan was Reid's importance to that historic defensive unit. He finished tied for first on the team in tackles in 2011. Although not possessing great, high end speed, Eric Reid has good size for a safety and, as evidenced by his famous play, has great ball skills and reactions to the football in the air. Another year at LSU along side Tyrann Mathieu should help his progression and experience.
Final Projection:
Safeties are routinely passed over high in drafts. Teams feel like the position can be found later on or filled by converting slower cornerbacks. Eric Reid should be one of the top safeties in the country this season but will probably not see any action day one of the draft. Look for Reid to come off the board on day two as teams look for a smart, play-making football player for their defensive backfield but someone without superior athletic talent.
See All NFL Draft Profiles and Rankings