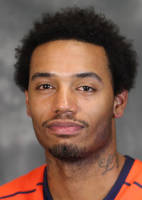 Mike Scott, Senior, Power Forward, Virginia
Overview:
What stands in front of Mike Scott and a spot on an NBA roster are all the things he has no control over: his age (he is a fifth year senior), his size (a bit undersized for an NBA power forward) and his athleticism. Mike Scott turned himself into a first team All-ACC player with smarts, court sense, guile and efficiency. This should not be held against him. His production this past season was particularly amazing considering the team he was on. Scott scored 18 points a game, leading one of the slowest offenses in the nation. He did so by being very effective with his chances, shooting over 56% from the floor, over 80% from the foul line and needing just 12 attempts a game to reach those 18 points. A slowdown offense like the Cavaliers' also means there are less possessions for rebounds. Scott's 8.3 rebounds per game would translate to well over 10 in a normal paced offense. According to Player Efficiency Rating, which takes into account so many aspects of a player's game compared to his peers, Scott was the 9th best player in the nation this past season and the 3rd best player from a big six conference trailing only Anthony Davis and Cody Zeller.
Final Projection:
So Mike Scott was the anchor and team leader on one of the best teams in the ACC this past season. He is not a shot-blocker but can do all the other things required of a power forward. He just does them at a height and speed not quite up to snuff of what NBA general managers desire. Throw in the fact that, at age 24, there is little room for improvement and Scott might not hear his named called during April's draft.
See all NBA Draft Profiles and Rankings