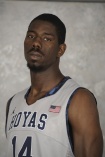 Henry Sims, Senior, Power Forward, Georgetown
Overview:
Coming out of high school, Henry Sims was surrounded by hype. It took a little while, but he eventually played up to it. After spending three years at Georgetown playing a reserve role, the 6-10 big man exploded onto the scene as a senior. Sims averaged 11.6 points, 6.0 rebounds, 3.5 assists and 1.4 blocks. His game finally came together and now that could lead to a career in the NBA.
Sims could be a center or a power forward at the next level. He is not going to spend much time outside of the paint, but he can knock down some mid-range jumpers. He is sound defensively and he actually led the Hoyas in assists during the 2011-2012 campaign. That is impressive for a 6-10 post player and Sims' ability to do a little bit of everything will be nice for any NBA team to have.
Final Projection:
The big question is whether Sims is a late bloomer who is still improving or if he just had one good year. Since he had only one productive season in college, NBA teams can rightfully be fearful that Sims cannot keep it going. However, he has a huge upside for a senior and should be considered a borderline second round selection.
See all NBA Draft Profiles and Rankings