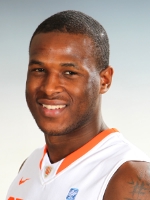 Dion Waiters, Sophomore, Shooting Guard, Syracuse
Overview:
Dion Waiters never started a game during his two years at Syracuse. But that does not mean he failed to live up to expectations. In fact, he may end up as a sixth man in the NBA as well and he is well prepared for that role. As a freshman, the 6-4 guard averaged just 6.6 points per game, but during the 2011-2012 campaign he boosted that number to 12.6 points.
Waiters really boosted his stock during his sophomore season when he proved that he could handle the ball. At 6-4 he is a little undersized for a shooting guard in the NBA. Ideally he would be able to handle the ball as well. He was rarely the primary ball handler for the Orange, but he did dish out 2.5 assists per game and only turned the ball over 1.3 times. If he can prove that he can run the show, or at least help run the show, Waiters could develop into a fine player in the NBA.
Final Projection:
Waiters will score, but he is not the most aggressive player around. He will have some trouble creating his own shot, especially against NBA caliber shooting guards who are a couple inches taller than him. The other concern is on the defensive end. If Waiters does have to defend a taller player, he did not get much preparation for that as the point man in Syracuse's zone defense.
5/31/12 Update by Dan Levine
Waiters was steady for the Orange this last season during their remarkable run. He was the second leading scorer on the team. He shoots a high percentage and can play solid defense. He is likely a middle first round pick.
See all NBA Draft Profiles and Rankings