The Stony Brook band does not have the long history of some other collegiate athletic bands, but The Spirit of Stony Brook has wasted little time creating their own deep tradition. With Wolfie by their side, the 145 piece band has set their own course in creating a unique and amusing atmosphere at Stony Brook athletic events. Marcus Coker will feel right at home.

College Sports Madness Band of the Week - Stony Brook
Your Name: John Leddy
Your Relation to the Band: Director of Athletic Bands
Band Name: The Spirit of Stony Brook
Number of Members: 145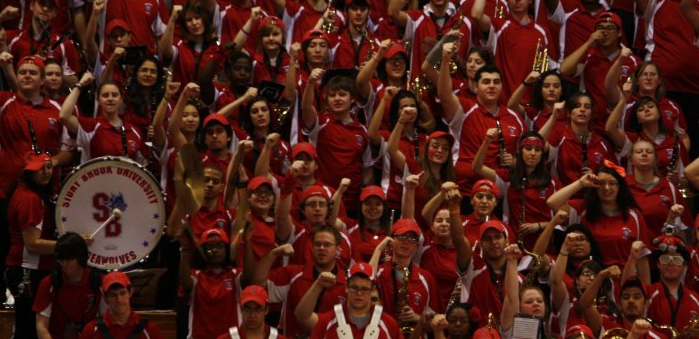 What is the most unique song you have ever played?
The band was sought out by a party planner to perform at a Bar Mitzvah. We sent a small marching band, complete with a drum major, to escort the young man out for his big entrance. We played Pump It (Misirlou) as he entered his party, which is the most unique song playing experience we have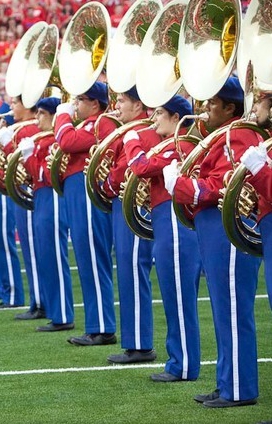 had to date!
How much preparation goes into your performance?
We have a week-long band camp prior to the start of the fall semester where we collaborate with all of the spirit squads, including the Stony Brook Cheerleaders, Stony Brook Dance Team and everyone's favorite mascot, Wolfie, to create our premiere performance of the season. We continue to practice throughout the semester and incorporate the other spirit squads into our rehearsals whenever possible. We strive to improve each year by adding new elements, such as Wolfie playing in the Snare Line or choreographed flair on the court as part of our basketball halftime show, in order to create a unique experience for our fans at every home game.
What interesting or unique traditions does your band have?
Since its inception in 2006, The Spirit of Stony Brook has had the unique opportunity to not only create traditions for the band, but for the entire campus community. We have been instrumental in creating spirit and pride on campus and entertaining our Seawolves fans at all home games.
Our newest tradition was established just this season at the America East Championship Game. Band members took over a media timeout alongside Wolfie to dance with cardboard cutouts of the heads of our Men's Basketball Team.
How is your band involved in the community?
We are grateful for the support of the Stony Brook community in all of our endeavors, and strive to give back as much as possible. Our students are highly motivated to give back to the community, increase spirit and pride both on campus and off, and share their experiences with high school band members in hopes that they will continue to enrich their lives with music in the future.

Recent Community Events:
- Relay for Life, 2012
- Marching Band Holiday Food Drive to benefit Island Harvest, 2011
- March For Dimes March For Babies, 2010-11
- Relay for Life of Suffolk County, 2010-11
- High School Pep Band Day, 2010-2012
- High School Marching Band Day, 2009-11
- Shoes for Souls, 2009
- Golden Games at Long Island State Veteran's Home, 2008-11
- Heart Start Walk at Stony Brook Medical Center, 2008-11
- Alpha Phi Delta Fall Classic for Children's Cancer, 2008-11
- Earthstock Celebration, a celebration of Earth Day, 2007-11
See All College Sports Madness Bands of the Week
Links (in order of appearance)
The Spirit of Stony Brook: http://www.youtube.com/watch?v=UR2L6wUrEPY&list=FLNzmpKRxmuvTJdQhse4_kFQ&index=8&feature=plpp_video
Wolfie playing in the Snare Line: http://www.youtube.com/watch?v=wfPoyMZ8MEY&list=UUichDoSwj_GllZ-fitdlAHA&index=55&feature=plcp
Choreographed Flair: http://www.youtube.com/watch?v=G_vLy6cLBXc&list=UUichDoSwj_GllZ-fitdlAHA&index=31&feature=plcp
Men's Basketball Team: http://www.youtube.com/watch?v=0BNhP6dGEoU&context=C42d1081ADvjVQa1PpcFPDTNEl44y3S849tbvX6Gm5ZN-oW2YOpLA%3D