Mascots know how to have fun, but few can party as hard as Stony Brook's Wolfie the Seawolf. Wearing Hammer Pants and hanging with Al Roker are just the beginning of how hard and long Wolfie has been getting down with the folks on Long Island. Surely even those students born after 1992 still groove the Hammer Pants. But even the younger kids love Wolfie, who is always willing to show off his more cuddly side.

College Sports Madness Mascot of the Week - Stony Brook

Your Name: Andrea Lebedinski – Coordinator of Annual Giving and Branding, Stony Brook Athletics

Your Relation to the Mascot: Wolfie's "Agent" – Responsible for crafting the vision and brand of Stony Brook University's mascot and managing his social media presence. I oversee the "Wolfie Mascot Team" as well as manage the Wolfie appearance/game schedule, on campus/off-campus presence, along with public relations and community outreach.

Mascot Name: Wolfie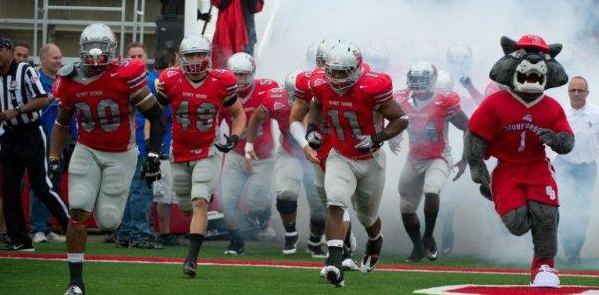 What is the history of your mascot?
Wolfie the Seawolf is the fun-loving mascot who loves Stony Brook Athletics and promotes it around Stony Brook University and in the local community.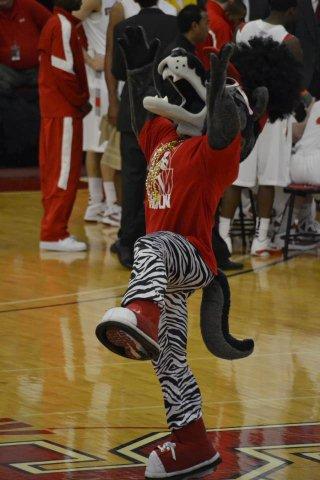 Wolfie has been a part of the Stony Brook family since 1995--just a year after the SB varsity teams became known as the Seawolves. The fourth nickname in Stony Brook history, Seawolves was selected from a list of more than 200 possible names by a 32-person committee comprising students, alumni, faculty, and administrators.

There's no doubt that Wolfie is a celebrity--he was the 2009 Three Village Sportsman of the Year and a finalist for the Best Mascot on Long Island in the Long Island Press Best of Long Island 2011 and 2012 contest. He is recognized by everyone in the community, and his favorite activities include cheering at Stony Brook games and having fun with kids and SB fans of all ages. You can find him cheering for the Seawolves student-athletes wherever he goes. Be sure to say "hi" to Wolfie when you see him out and about. He's always happy to see you and greet Seawolves fans with a friendly high five or a hearty hug.
What is the most memorable moment during your time associated with the mascot?
There have actually been several memorable moments:
Summer 2008 – NYC Trip to NBC's the Today Show
Although Wolfie did not make it on air, Al Roker did recognize Stony Brook in this segment.
Video Clip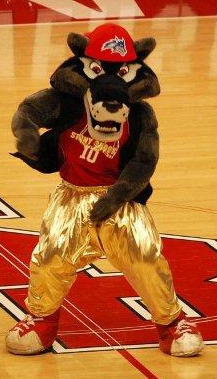 Photo Album

June 2010 – Participation in ABC's Extreme Makeover: Home Edition Taping
Wolfie, the Stony Brook University marching band, dance team and cheerleading team brought some Seawolves Spirit to the Extreme Makeover: Home Edition Long Island site reveal. The Lutz family of East Setauket, NY were the deserving recipient of the beautiful new home. The show aired during Fall 2010.
Photo Album
Video Clip of show taping

Summer 2011 – Appearance in 2011 ESPN's College Gameday Commercial
This past June, Wolfie was invited to appear in the 2011 ESPN's College Gameday commercial alongside 16 other mascots from big Division I schools. The commercial aired this past fall. Wolfie was the only representative from a Football Championship Subdivision (formerly Division I-AA) school.
Photo Album
Video Clip of Commercial

Winter 2012 – Featured on ESPN.com Page 2: Web Video of the Day – Wolfie's "Hammertime" Performance
By Patrick Dorsey - Nothing to see here, folks. Just a mascot in Hammer pants, dancing -- to MC Hammer, of course. But hey, that's just how Wolfie the Seawolf (of Stony Brook University) does it.
Link to "Hammertime" Performance
What makes your mascot famous, or infamous?
Wolfie goes above and beyond what you would consider to be your average "College Mascot." Whether he is performing a routine to one of Michael Jackson's historic hits, or "Shufflin'" to LMFAO's Party Rock Anthem you will always see Stony Brook University's fun-loving mascot taking it to the next level. Wolfie is not only a celebrity on campus but has become extremely well-known in the local community and throughout Long Island, N.Y.

We are continuously working to help Wolfie gain a national online presence. Wolfie's online impact goes well beyond athletics. Wolfie's strong and dynamic presence on the Web is a vital component in the University's overall strategic marketing effort. For the past two years Wolfie has been a finalist for the Best Mascot on Long Island in the Long Island Press Best of Long Island contest. Each year we submit an application the Capital One Mascot Challenge in which 12 college mascots from across the country are selected to compete for the coveted title of Mascot of the Year. Currently that is our ultimate goal but there is no telling what will be next for Wolfie!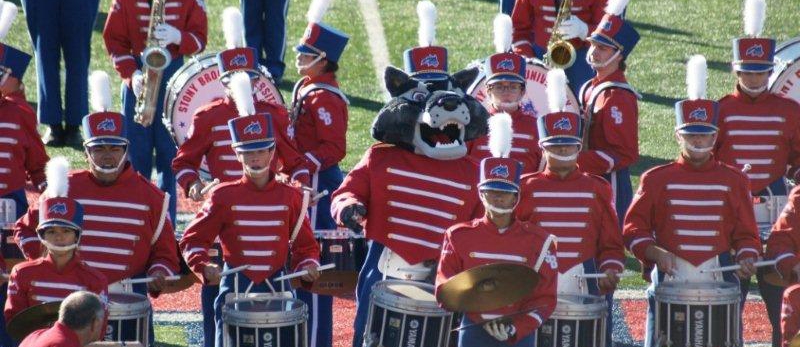 See Previous College Sports Madness Mascots of the Week

For more information on Stony Brook University's Wolfie, please visit the various links below:

WOLFIE - The Heart of Stony Brook University

YOUTUBE CHANNEL: www.YouTube.com/WolfieSeawolf

FACEBOOK FAN PAGE: www.Facebook.com/WolfieSeawolf
TWITTER: http://twitter.com/WolfieSeawolf

WOLFIE BLOG: www.wolfieseawolf.blogspot.com/

Wolfie News:
• One Small Step for a Mascot, One Giant Leap for the Brand
Article Link: http://www.stonybrook.edu/sb/features-wolfie.shtml
• "The Magic of Being a Mascot" (The Statesman, Stony Brook)
Article Link: http://www.sbstatesman.com/2010/04/22/the-magic-of-being-a-mascot-the-li...
• Hairy honoree embodies the new campus spirit
Wolfie is beloved beyond SBU in our North Shore communities
Article Link: http://www.northshoreoflongisland.com/Articles-i-2009-12-24-82548.112114...
• Wolfie Walks Across Brooklyn Bridge With WFAN's Boomer and Carton
Wolfie Joins Over 4,000 For Walk Across Bridge Into Manhattan
Article Link: http://goseawolves.cstv.com/genrel/010810aaa.html
• Wolfie Goes Global
Article Link: http://sb.cc.stonybrook.edu/happenings/?p=629
• Where In The World Is Wolfie?
Follow Wolfie's World Travels
Article Link: http://goseawolves.cstv.com/genrel/091109aab.html